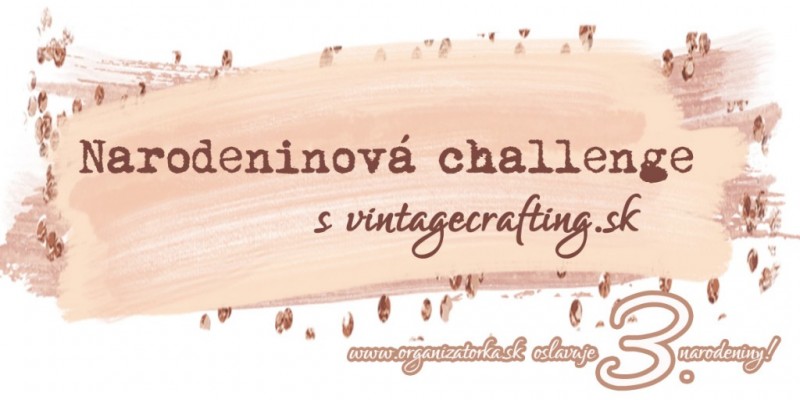 S potešením zahajujem dnešný celodenný NARODENINOVÝ BLOG HOP s vintagecrafting.sk a oslávencom – e-shopom organizatorka.sk. Budeme spoločne a dobrodružne preskakovať z blogu na blog, inšpirovať sa aktuálnou tvorbou nášho dizajn tímu a tiež riešiť súťaže, odpovedať na otázky a vyhrávať skvelé ceny z nášho e-shopu kde nájdete nielen materiál na scrapbooking :-).
A čo je to ten BLOG HOP? BLOG HOP je vlastne "skákanie" z jedného blogu na druhý. Tentokrát sa bude skákať po blogoch členiek nášho dizajn tímu, aby ste ich viac spoznali, videli ich rôznorodé aktivity, mohli ich sledovať a obdivovať aj mimo príspevkov na blogu Vintage Crafting! Každá z nich vám ukáže niečo nové zo svojej tvorby, k tomu pripojí aj pár slov a v každom z príspevkov na vás bude čakať súťaž s krásnou špeciálnou narodeninovou výhrou :-).
Na čo sa môžete tešiť? Musíte sa nechať prekvapiť :-). Veď trošku napätia a zvedavosti neuškodí. Určite však sledujte:
Kristínkin blog o 11.00 hod.
Deniskin blog o 14.00 hod.
Danielin blog o 17.00 hod.
Valikin blog o 20.00 hod.
A na čom práve pracujem ja?
Času na tvorenie nemám veľa, čo ma mrzí. Ale raz za čas si ho jednoducho ukradnem a relaxujem ♥. Špeciálne pre túto príležitosť som vytvorila romantický a "sladký" zakladač na recepty.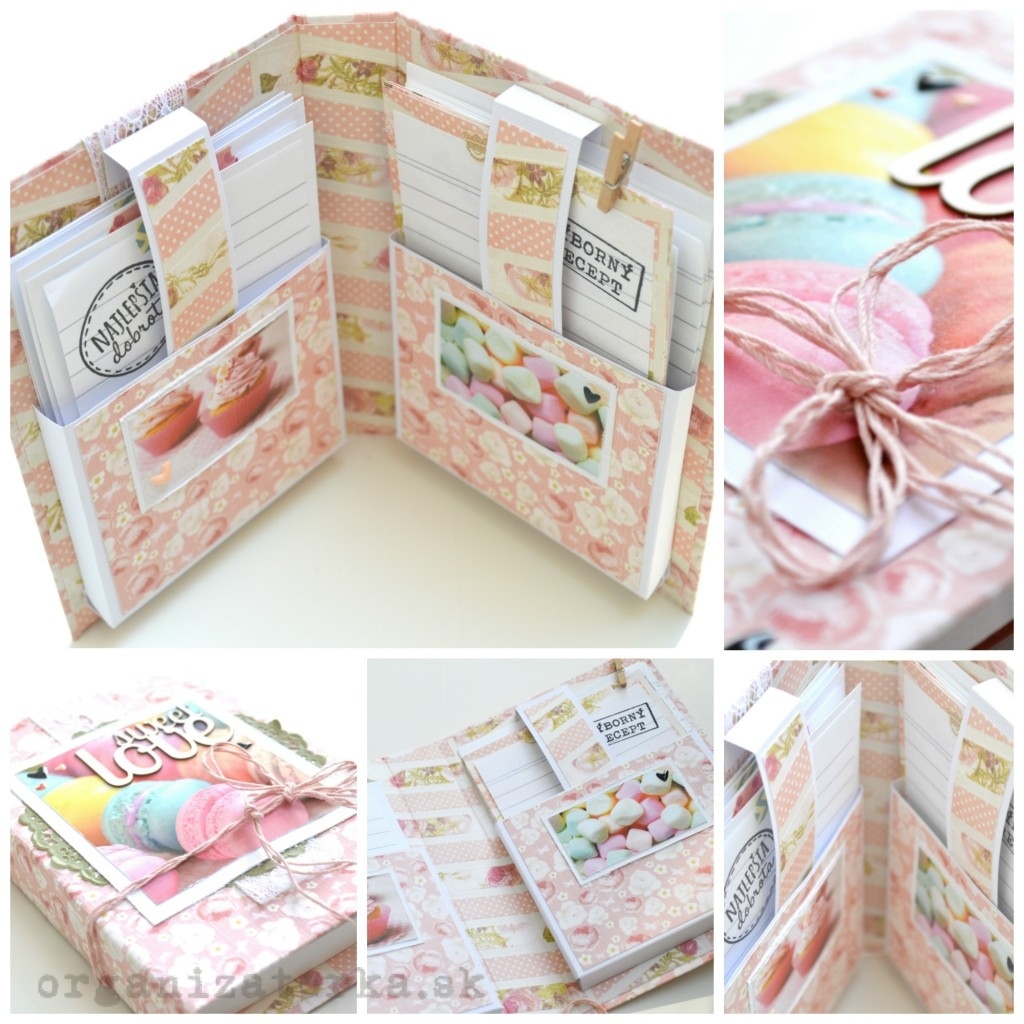 Inšpirovala ma Niki, moja dcéra. Veľmi ju totiž baví fotiť jedlo, špeciálne ovocie na rôzne spôsoby a sladké zdravé dezerty, ktoré aj sama pripravuje. Lenže hádajte ako to vždy končí? Kto to všetko zje??? Hmmm …. mám veľmi sladký život :-). Aby som sa jej odvďačila za kilá navyše, tento zakladač na recepty bude pre ňu ♥. Tu je zopár detailov:
Použila som: papier s makronkami, Love Story papiere, enamelky a výrezy z lepenky. Samozrejme, obojstranná trhacia lepiaca páska nesmela chýbať :-).
TERAZ UŽ K PRVEJ SÚŤAŽI dnešného dňa:
NARODENINOVÁ CHALLENGE
Podmienky:
Vytvorte ľubovoľný projekt s pomocou ľubovoľného návodu na blogu Vintage Crafting (tvorba celého projektu alebo konkrétneho detailu na nej). Pošlite svoj výtvor do piatku 22.4.2016 do polnoci na e-mail: challenge@organizatorka.sk
Čo môžete vyhrať?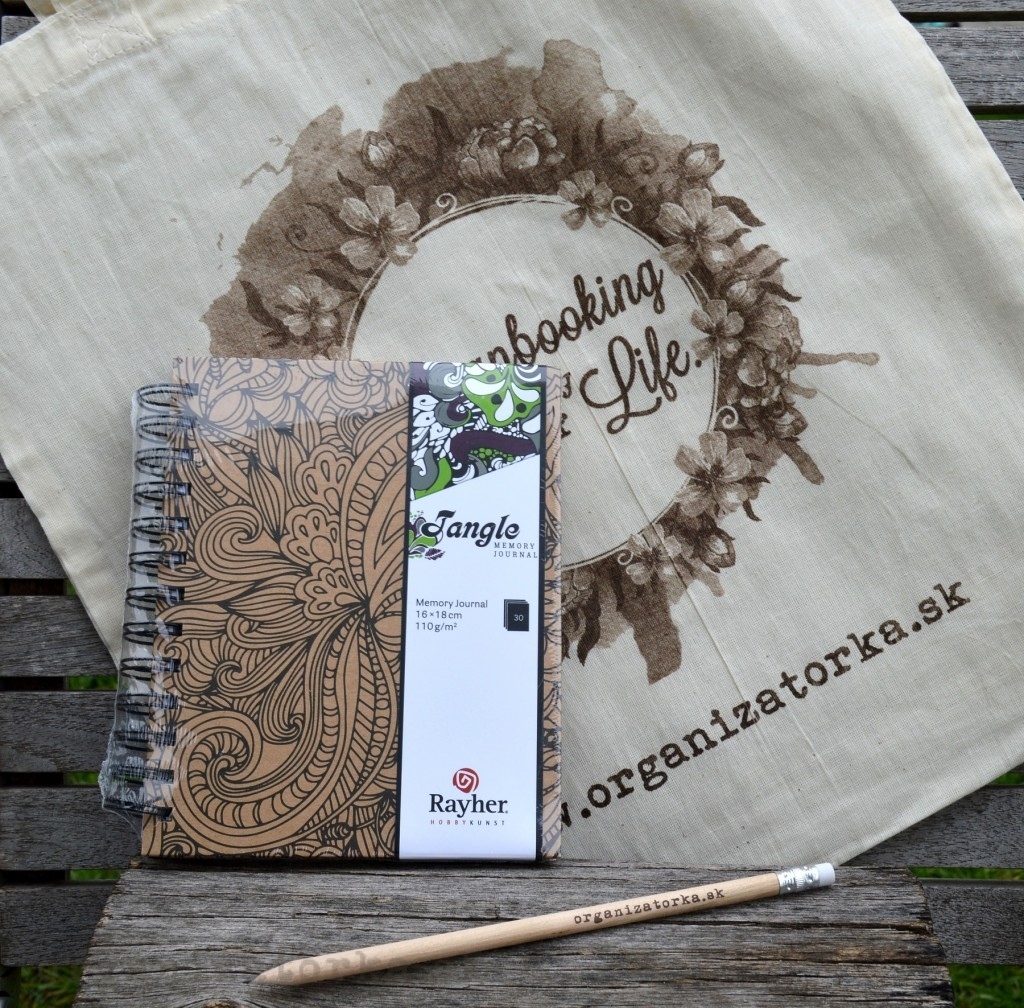 Výhra je parádna: originálna textilná taška organizatorka.sk, blok Tangle Memory Journal a ceruzka, šikovný pomocník :-).
Meno výhercu z tejto i ostatných súťaží BLOG HOPu sa dozviete v pondelok (25.4.2016.) tu na blogu vintagecrafting.sk, kde sa to celé začalo :-).
Ďakujem Vám za návštevu a teraz môžete pokračovať na Kristínkin blog , kde na Vás o 11.00 hod čaká ďalšia dávka inšpirácie a tiež ďalšia krásna narodeninová výhra!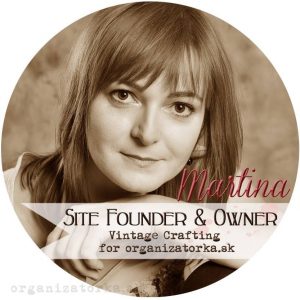 P.S. Nezabudnite, od dnes až do 25.4.2016 môžete nakupovať s 13% narodeninovou zľavou :-).